The most important part of brewing coffee comes from the actual grinding process. If the beans are heated too high when ground, they will lose their flavor. This often comes from subpar coffee grinders that have internal parts that become intensely hot when grinding. If the grinds are not all perfectly ground, this can also lead to a bitter taste that is less than acceptable for the avid coffee drinker.
The series of Capresso Infinity Conical Burr Grinders offer the utmost in grinding perfection. These grinders are made with supreme ingenuity so that every last coffee bean is ground to perfection. No longer do you have to lose the quality taste that you enjoy because a grinder is not adequate.
Features and Design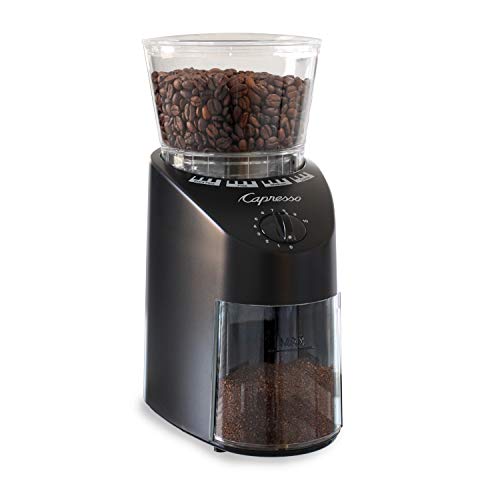 Capresso Infinity Conical Burr Grinders comes with a slew of features that perfectly complement its amazing design. In fact, over 1,800 people have rated this grinder a 4 star. This is a testament as to how high of a quality consumers can expect from this model. The features alone tell a story as to how well the manufacturer has designed this model.
Powerful:There are 100-watts of power that go into the grinding process. This means that the grinds can be as fine or as thick as a person wants. It is even possible to have the fine grind that is only seen with espresso.
Grind Settings: There are 16 different grind settings. These settings ensure that all of the power behind the machine is in the user's hands. Now, you can choose the perfect grind quality for your desired taste.
Commercial-grade Burrs: Flavor is never lost thanks to the commercial-grade burrs found within this machine. These burrs ensure that the coffee is ground to perfection each and every time. Even after prolonged usage, the same great quality is still seen.
Capacity: There are two containers: a bean container and a grounds container. The bean container can hold 8 and a ½ ounces of fresh coffee beans at a time. The grounds container can hold up to 4 ounces.
Color: There are two color options available: black and brushed silver.
Timer: A built-in timer is present that ensures you never grind your coffee too long. Simply set the timer and walk away.
Warranty: The manufacturer stands by their product and offers a 1 year warranty. If anything breaks within the first year of ownership, they will replace it.
Pros
There are a wide variety of grinding options available with this model. From Turkish fine to more coarse grinds, there is an option for virtually every taste.
The timer allows users to set a 5 – 60 second grind and step away to prepare their coffee pot while their beans are grinded to perfection.
A cleaning brush and scoop are included so that you never have to worry about buying these accessories separately.
There is very low noise output from this grinder. This means you can grind coffee without waking up the entire house.
There is a safety lock feature so that you never get hurt when grinding is taking place.
Grind evenness is exceptional. You will not find coarse or fine grinds when they shouldn't be there.
Reduction gearing is used so that no static or heat degrade the flavor during the grinding process.
There are 1,800 reviews that state that this is an exceptional coffee grinder worthy of a 4 star rating.
Cons
The grind container seems to loosen after several months of use. This leads to having to hold the container in place. This is not seen often, but it may depend on how rough a user is with the removal of their container.
Grinds often get stuck in the grinder and are not expelled until the next use. This happens at the end of the grinding process.
Bottom Line
Users either love this model, or they are upset that the grinds do not all get expelled at the end of the grinding process. If this is an issue for you, this may not be the best coffee grinder for you. However, if you can live with the sparse grinds left over at the end of grinding, this is the ideal choice. The immense precision of the grinding process and the myriad of control options make this one of the best coffee grinders in this price range.