What it takes to be rich. Profiles of four people who have earned it.
When to dump that great idea. Cutting out on your "great idea' can be a difficult task.
80 Open Source Content Management Systems. Something here for everyone.
Fun with math: Apple has sold 3 billion songs. Since its inception on April 28, 2003, the iTunes Music Store has sold an average of: 1,929,260.5 songs per day, or 80385.9 songs per hour, or 1339.8 songs per minute, or 22.3 songs per second. Those numbers do not include Movies, TV Shows, or audio books.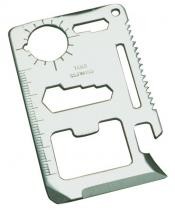 Fishboy 11 Function Survival Tool. 11 survival tools integrated into a credit card sized form factor. I have several ToolLogic Credit Card Companions which have been mainstays in all types of gear bags; backpacks, laptop case, etc. I like that the Tool Logic product is integrated into case, but then again, the $5 price of the Fishboy might outweight the inconvenience of the pouch carrier. Then again, I've managed with external cases for years with my Skeeter! and Mini Son of PryThing. (hat tip on the Fishboy to Cool Tools)
Don't miss security guru Bruce Schneier's 5-part interview with Kip Hawley, TSA Administrator: Part 1, Part 2, Part 3, Part 4, Part 5.
Riding on the edge (source unknown).
GridSkipper. The urban travel guide published by Gawker Media.